In conjunction with a retrospective exhibition of the artist's work at the Bolinas Museum, a fifty-six page catalogue has been printed at Hemlock Printers, Ltd., Vancouver. It contains 110 four-color images reproduced using a stochastic screening method with a 25 micron spot. The effect of the process is to render each image in extremely high resolution without an obvious screen pattern.

The catalogue has an introduction by the writer Barry Lopez who is the author of many books of fiction and nonfiction, including About This Life, Field Notes, and Arctic Dreams for which he won the National Book Award. The first page of the introduction reads:



In the catalogue the artist describes the process of refining the ideas in each artist's book, often tracking the way in which an idea reaches its conclusion in such a work. For example, here are the the links between Leonardo Da Vinci, Edgar Degas and baseball:


For more information about Leonardo Knows Baseball, click here.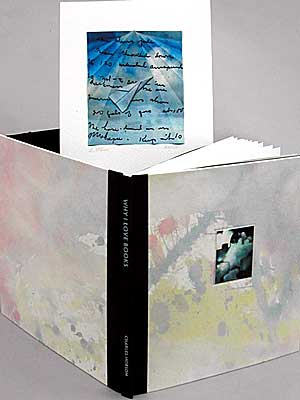 A special version of the catalogue has been produced in a limited edition of 100 copies bound by John DeMerritt with a hand painted cover and containing a limited edition digital pigment print entitled Amelia's Last Words. The prints were editioned at Urban Digital Color, San Francisco, under the supervision of Griff Williams and were printed using a Roland digital printer on 256 gm Concorde Rag paper.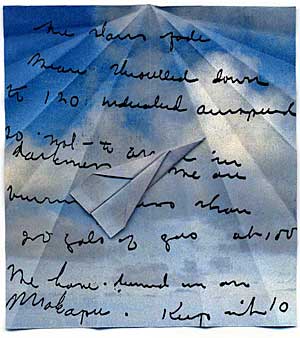 Catalogue. $20. Limited Edition version. $150