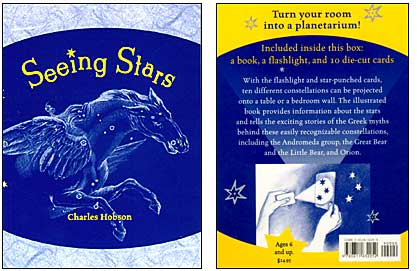 [See a
video clip
of the book being shown.]
The Andromeda myth captures the tale of King Cepheus and his beautiful Queen Cassiopeia. Their happy and prosperous seaside kingdom is flooded by Poseidon because he believes the Queen has compared her daughter's beauty to the gods. He sends a sea monster name Cetus to terrorize the coast. The King learns from the Oracle that he must sacrifice his beautiful daughter, Andromeda, to the sea monster to appease Poseidon. Just as she's about to be devoured Perseus, the hero, riding on the winged horse Pegasus sees her plight. Entranced by her beauty he slays the monster and wins the hand of the beautiful princess.

Seeing Stars also includes the stories behind the Big Dipper, the Little Dipper and Orion which helps beginning stargazers orient themselves to the magical experience of locating a pattern in the stars.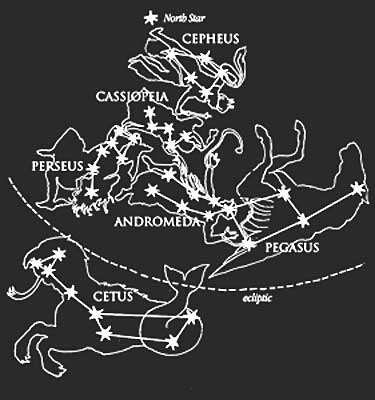 SEEING STARS uses die cut cards, a flashlight and a small story book to introduce children and adults to several prominent constellations. Greek stargazers in the 4th century BC gave the names of characters in the Andromeda myth to six constellations clustered together near the North Star. As a parent reads the myth a child can use the flashlight to shine the shape of each character's constellation on the ceiling, wall or table. Later, looking at a night sky, the constellations can be found by following instructions given in the book, conveying an understanding of how the stars have fascinated human beings and how accessible are their patterns.

For ages 6 and up.