THE STORY

"When I was an undergraduate at Brown I came across a book called The City of Ascensions, about Bogotá. I knew nothing of Bogotá, but I felt the author had captured its essence. My view was that Onesimo PeĖa had not written a travel book but a work about the soul of Bogotá."


With these words Barry Lopez opens his short story about his narrator's lifelong quest to find a reclusive master mapmaker. The narrator, Phillip Trevino, comes to understand that the Bogotá book and six other extraordinary travel books all purportedly written by different authors are in fact written by the same man.

Trevino has become a respected and successful geographer and urban planner living in Boston, but has never given up his search for the genius behind the books which have become a touchstone for his own work and world view. In recent years the trail has grown very cold. His hopes are revived in a book store in Tokyo when he finds a set of elegant hand drawn maps in a map cabinet - all unmistakably by the author of the books - and all signed: Corlis Benefideo.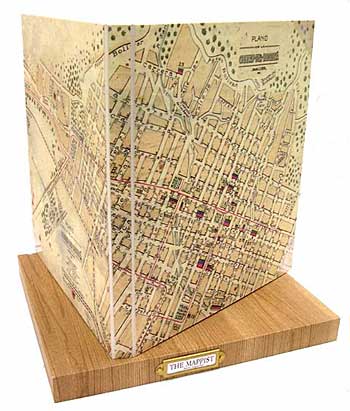 Like a great detective, Trevino follows the barest of clues and manages to locate Benefideo who invites him to North Dakota for a visit. Benefideo is now a man in his late eighties living alone on the outskirts of a small town. Late in the evening he shows Trevino his latest maps.

The satisfaction of the meeting to Trevino is compounded by the exchange of understanding between the men. They part with a gesture which represents a handing off from one generation to the next of the value of a passionately followed path, one which is followed with authenticity and conviction.

More

The Mappist, page 1 | 2 | 3 | 4