Taking Off Emily Dickinson's Clothes is built around Billy Collins' extraordinary poem and has been produced as a limited edition of thirty copies. It employs buttons, ribbons. feathers and lace and a pastel monotype by Charles Hobson with a feather sewn to it. Accordion binding. 8 1/2 x 7 x 1 inches (closed). Seven pages with hidden definitions and fold out stanza from an Emily Dickinson poem.
Out of Print.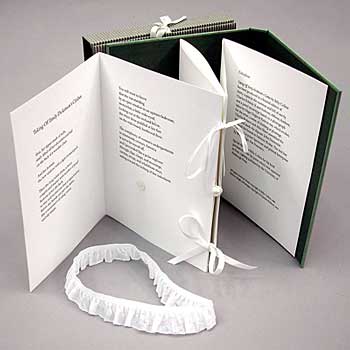 The key to the poem's presentation as an artist's book came when the poet's words about buttons, ribbons and catches provoked the insight that buttons and ribbons could tie the poem's pages together .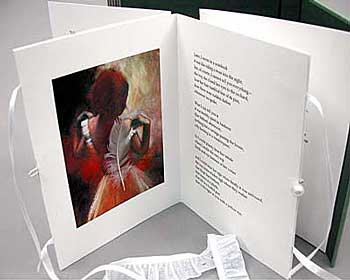 And by great good fortune the poem's stanzas broke at just the right place in structure and mood for the pages to be unbuttoned.


A pastel monotype with a feather sewn to it provides the visual counterpoint to match the spirit of the poem. The pastel monotype is based on a 19th century photograph taken by Edgar Degas which evokes, for the artist, a sense of clothing as plumage.



---